Spring (and maybe even summer) is in the air, it's time to throw open the windows and revitalise our living spaces, re-tuning our everyday moments into the changing seasonal rhythm.
I don't know about you, but this slower spring has meant that winter clothing and winter bedding stayed around a little longer than usual this year . It's only now, at the tail end of May, I feel confident enough to pack away the woollen blankets and cosy socks.
When this seasonal transition arrives I get inspired to attempt a deep clean of our home, which has been wintering along with us. As usual, the house has collected some choice cobwebs in high corners and dusty layers aplenty- I can happily ignore these all winter long but for some reason, come spring, I cannot.
(I say attempt to deep clean as I often get distracted or lazy along the way, but mostly I tackle it one draw, one cupboard, one room at a time and by the time autumn comes around I might have gotten through it… )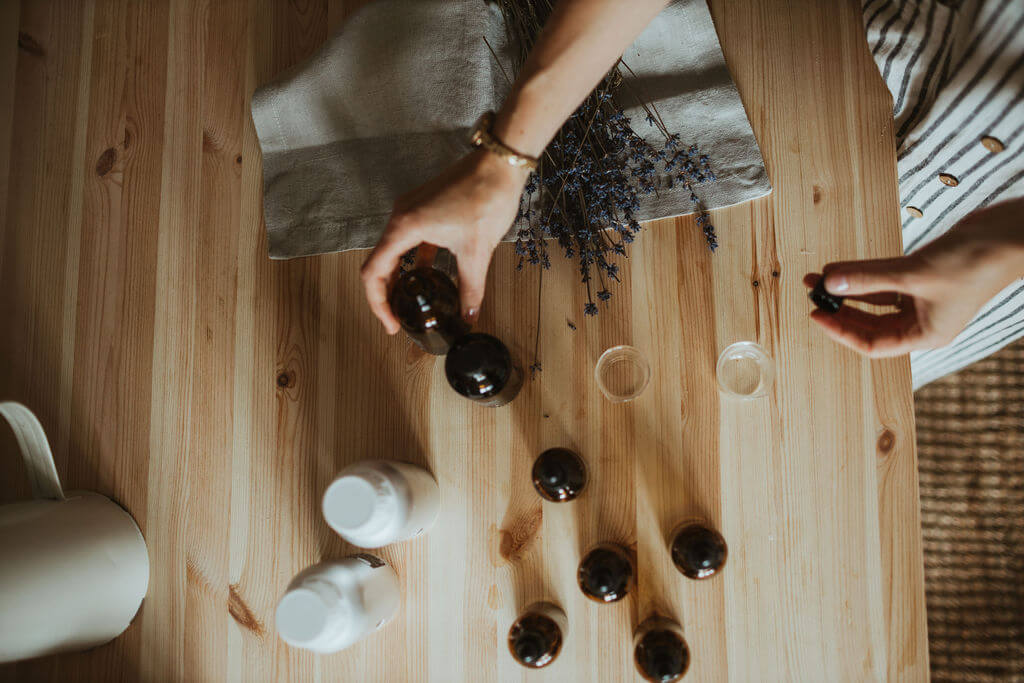 Each year I try and swap out more of our cleaning products for more sustainable, natural alternatives. There are more and more eco-friendly cleaning products available, and they work just as well as the conventional ones. In fact, I think they even work better in some cases. But – some of the natural cleaning brands can be expensive, so budget wise it can be difficult to make the switch all in one go.
A budget friendly alternative is to make your own cleaning products, buy the ingredients in bulk and add in a few essential oils to get your home smelling fresh and inviting. Essential oils are a great way to add a touch of aromatherapy to your cleaning routine, refresh and revive your rooms and boost your mood during the process. Plus, they're free of harsh chemicals and synthetic fragrances, so they're a good choice for the environment too. I've listed my favourite 5 essential oils to use around the house, together with some simple natural cleaning recipes.
5 of the best essential oils for a clean, healthy, and natural home:
Lemon Essential Oil
Lemon is a great all-purpose cleaner. It's antibacterial, antiviral, and antifungal, so it can be used to clean just about any surface in your home. If happy was a fragrance, it would be lemon. It has a fresh, clean scent that will leave your home smelling pretty damn wonderful.
Tea tree Essential Oil
Tea tree is another great all-purpose cleaner. It's also antibacterial, antiviral, and antifungal, and it has a strong, woodsy scent that can help to kill germs and freshen up your home. Go easy on this one folks – the scent is very strong and should be use sparingly, a couple of drops will suffice!
Lavender Essential Oil
Lavender is the ultimate soothing and relaxing essential oil. It can be used to create a calm and relaxing atmosphere in your home, and it can also help to relieve stress and anxiety. Lavender is also a great essential oil for creating an optimum sleep environment too, so it's perfect for using upstairs and in the bedrooms.
Eucalyptus Essential Oil
Eucalyptus is a refreshing and invigorating essential oil. It can be used to clear your sinuses and relieve congestion, and it can also help to boost your energy levels. Eucalyptus is a great to use during the winter months, when colds and flu are more common but it also works well to combat allergy congestion during the spring and summer.
Peppermint Essential Oil
Peppermint is a stimulating and energizing essential oil. It can be used to relieve headaches and nausea, and it can also help to improve your focus and concentration. Peppermint is a great essential oil to use in the morning, when you need a little pick-me-up or to re-energise and re-invigorate downstairs spaces with a little more zing.
Natural Cleaning Recipes with Essential Oils
All-Purpose Cleaner
Ingredients:
1 cup white vinegar
2 cups water
10-15 drops essential oil of your choice (lemon, lavender, tea tree, etc.)
Instructions:
Combine all ingredients in a spray bottle.
Shake well to mix.
Spray on surfaces and wipe clean with a damp cloth.
Natural Glass Cleaner
Ingredients:
1 cup water
1/4 cup rubbing alcohol
10 drops essential oil of your choice
Instructions:
Combine all ingredients in a spray bottle.
Shake well to mix.
Spray on glass and wipe clean with a soft cloth.
Natural Bathroom Cleaner
Ingredients:
1 cup baking soda
1/2 cup white vinegar
10 drops essential oil of your choice (tea tree, lemon, lavender, etc.)
Instructions:
Combine baking soda and vinegar in a bowl.
Let sit for 5 minutes, then stir to create a paste.
Apply paste to surfaces in the bathroom and let sit for 15 minutes.
Scrub with a brush and rinse clean.
Natural Floor Cleaner
Ingredients:
1 bucket of warm water
1/2 cup white vinegar
10 drops essential oil of your choice (lemon, eucalyptus, etc.)
Instructions:
Combine all ingredients in a bucket.
Mop your floors as usual.
These are just a few ideas for easy natural cleaning recipes using essential oils. You can experiment over time with different oils and combinations to find what works and feels best for you and find more simple recipes and ideas here.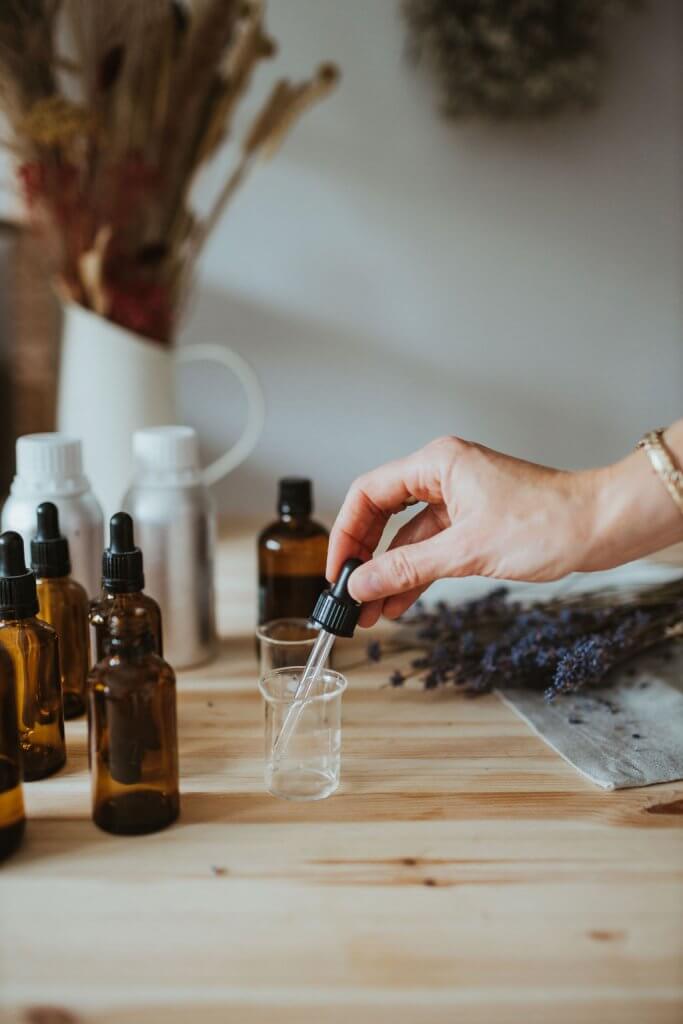 Essential Oils Safety Considerations
Essential oils are concentrated and should be used with caution. Here are a few safety tips to keep in mind:
Do not apply essential oils directly to the skin.
Do not ingest essential oils.
Keep essential oils out of reach of children and pets.
Check safety precautions for using your chosen oils around your pets.
If you are pregnant or have a medical condition, consult with a doctor before using essential oils.
Storing and caring for essential oils
Essential oils should be stored in a cool, dark place.
They should also be kept in a tightly sealed bottle.
Essential oils should not be exposed to heat or sunlight and should be used within 2 years of opening.
Where to buy your essential oils – UK based suppliers
My favourite suppliers are listed below, you can choose smaller or larger quantities dependant on your storage space and also find other natural cleaning supplies at these stores too.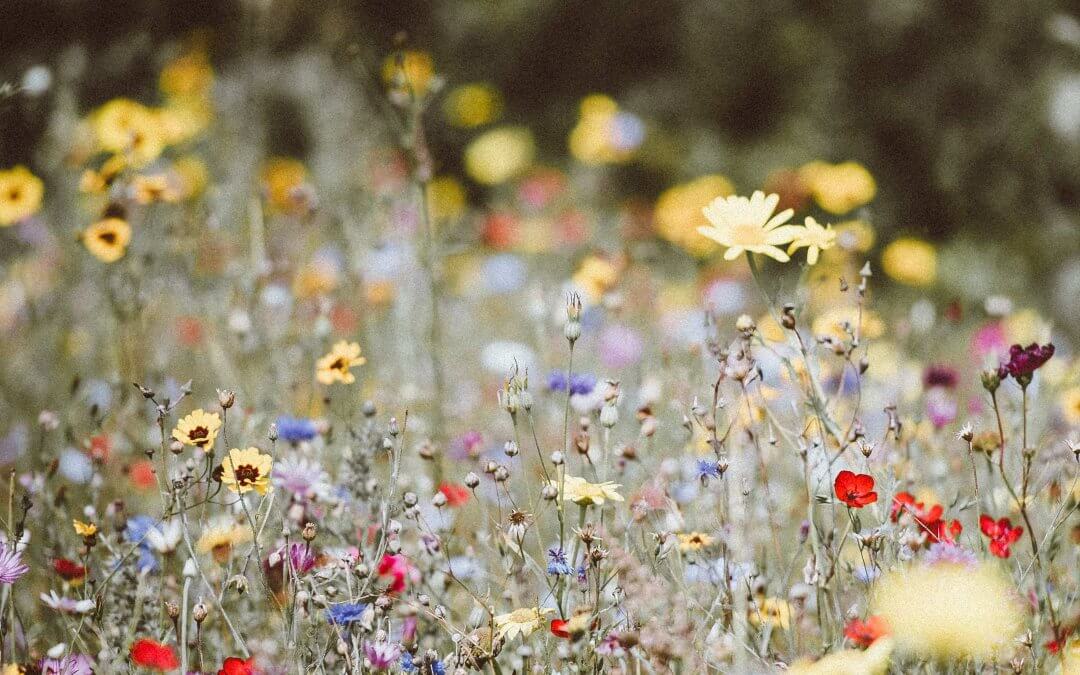 The stories, legends, and beliefs around our British wildflowers are bursting with natural magic and mystery. The many tales that have been passed down for generations shape and guide our relationship with these ethereal plant friends.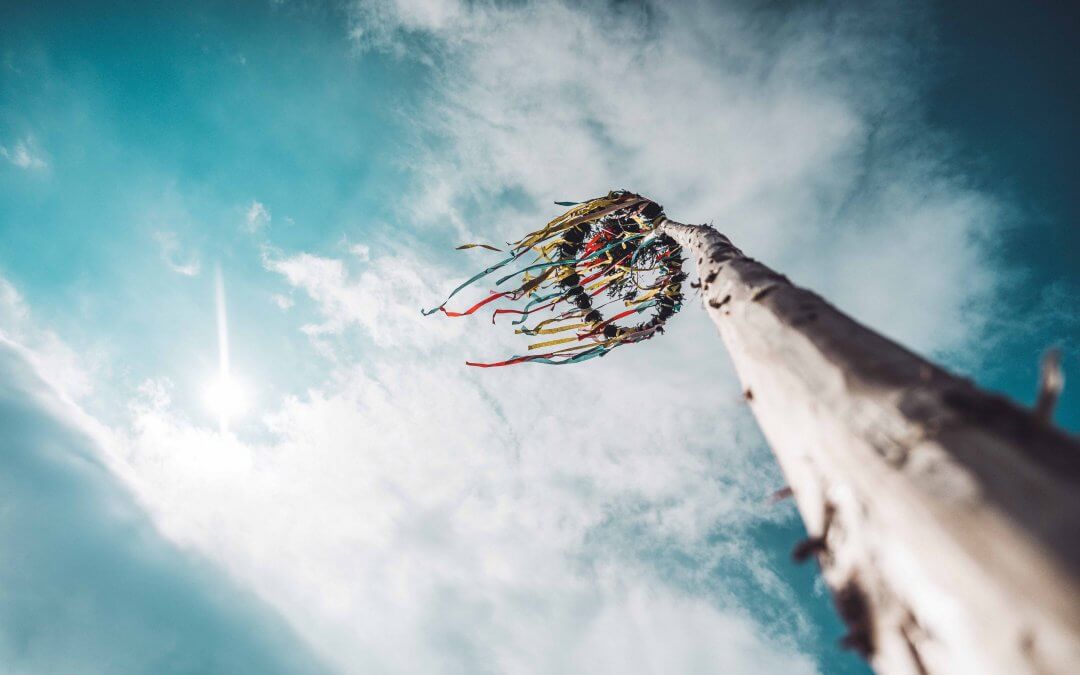 May is the jewel in the crown of spring, find out why we celebrate May Day, as well as simple ideas for celebrating at home.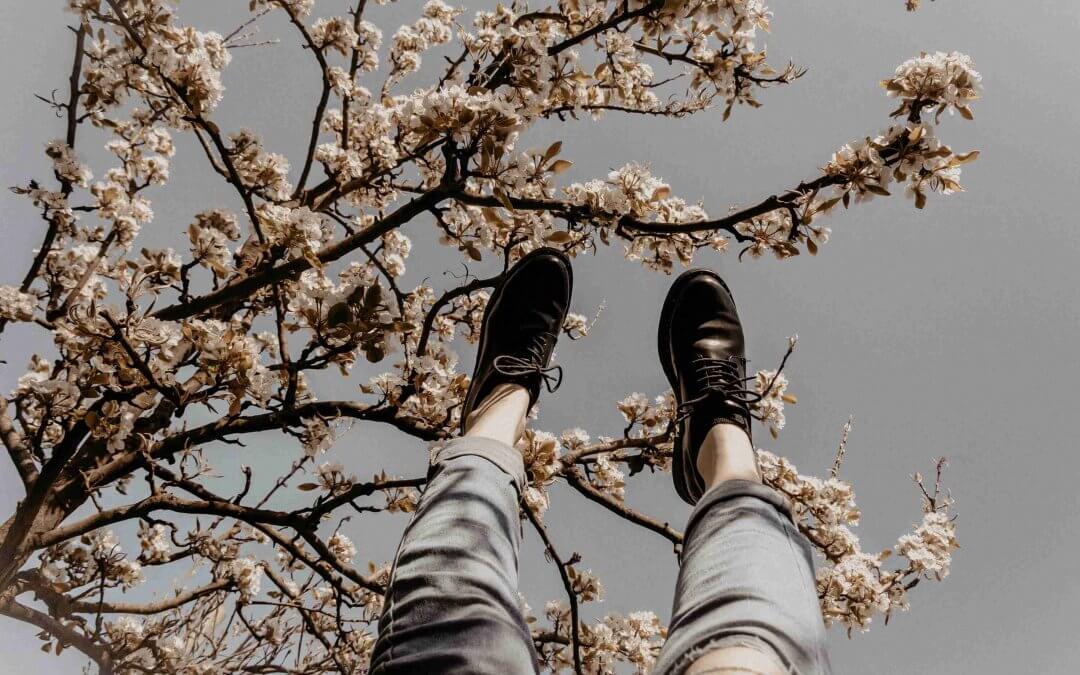 Spring is the season of new beginnings, a time to start afresh with renewed purpose, and get back in touch with our inner selves and the natural world outside our door.