Five simple ways to ready your home for Autumn…
Autumn is a time for home. By adding just a few simple, seasonal touches, we can look forward to welcoming the season both inside and out, creating a comforting rhythm of Autumn home rituals to come back to year after year.
number 1-bring autumn foliage indoors
A simple and low spend option to make your home feel prepared for the change in season is to see what natural foliage you can gather and display in your spaces.
Seedheads, berries, small branches, dried leaves – all of the golden tones of Autumn can be brought in and added to small jars, trays or wreaths.
Floating frames and foliage also work really well at this time of year. If you have a flower press you can press your favourite finds or flatten them between book pages and then frame between two pieces of glass.
This is a really lovely way to include kids too – if you have little people who love to fill their pockets with all sorts – take them out on a nature walk and see what you come back with…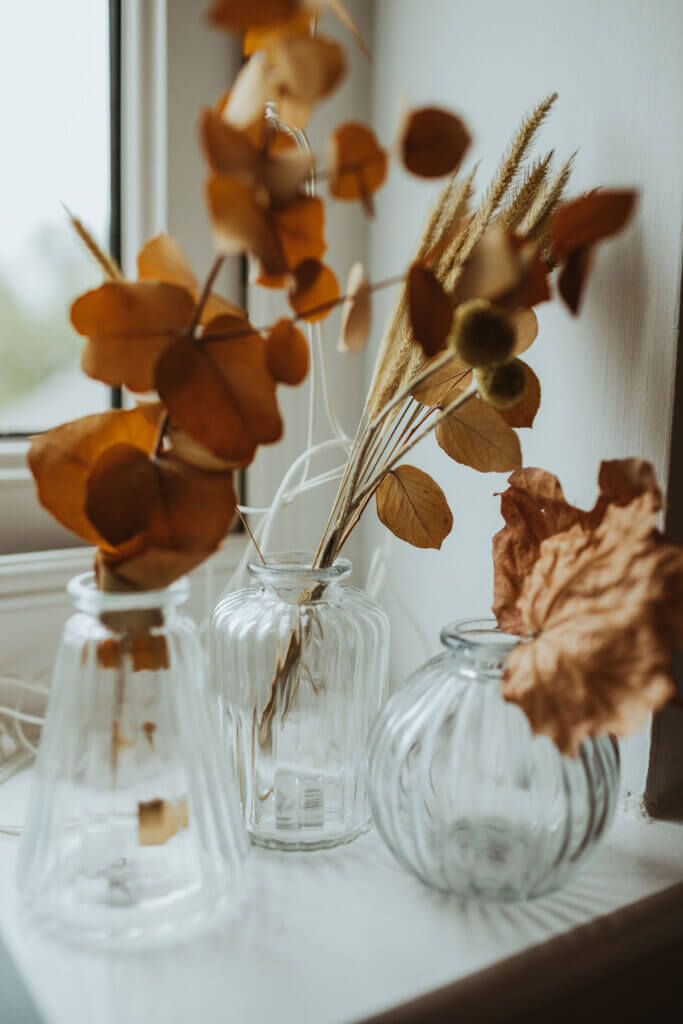 number 2 add cosy textures to your home
This is the time to go through your cupboards and pull out all the blankets and throws. Adding an extra level of comfort in the living room for those cosy evenings ahead.
The range of textures will give your room a warmer, more inviting feel and keep those toes toasty throughout the Autumn/Winter months.
If you are able – add a comfy rug to any floors which could do with a little more warmth!
The addition of soft and tactile materials makes for an inviting autumn home. Rich and warming colours and low lighting will create a comforting haven for when you need to retreat, close out the outside world and relax.
number 3 use natural scents to connect with the seasonal shift
Scent is a wonderful way to create an inviting atmosphere and a sense of comfort in your own space. By choosing scents which tune into the Autumn season, you can add a deeper layer of connection to the natural world outside your door.
It is a real joy to work with essential oils and create natural scents which connect with our seasonal journey. Each blend I make here at The Smallest Light tells a story and each one holds the potential to bring a season to life. For Autumn the scent stories are woven with seasonal themes of harvest, retrospection, gratitude and preparation. You can take a look at the natural Autumn Home Fragrance Range from The Smallest Light here.
Lighting a candle always holds an element of magic and the soft light of a flame is a perfect companion to your Autumn home. Whether you prefer a candle, oil burner or twinkly lights – make sure you add a few of these touches once the darker evenings begin to draw in.
number 4 declutter your home
Most of us are likely to spend a great deal more time indoors in our homes over the Autumn and Winter months, so this is a perfect point in the year to try and declutter our space so that we can feel relaxed when we are there! Easier said than done I know, I have two kids and the stuff in our house seems to breed of it's own accord!
With decluttering it's easiest to take one room , one corner or one cupboard at a time. Think about what you will need for the next few months and whether there is anything that can be packed away or given to charity.
I love to follow Hannah Bullivant for all her amazing decluttering tips – she has recently moved to a tiny home and has so many tips for sorting through and simplifying without becoming too overwhelmed.
number 5 stock up on your favourite home comforts
During the Autumn months we should be beginning to wind down, in the natural cycle of things we would seek a quieter pace of life after the busy and hectic days of Spring and Summer.
Not all of us can follow natural rhythms as much as we would like though. With work and families and a global pandemic to contend with, we often have a lot on our plate during this time! I find it helps to look forward to the comforts of home, after those busy days on the go.
My go-to comfort is usually a hot drink, so this season I have stocked the online store with plenty of delicious, natural choices. Natural Hoogly Teas in seasonal flavours such as Pumpkin Spice and Baked Apple Chai. Harth hot chocolate and Chocolate Truffles for the ultimate cosy night in.
Whatever your go-to comfort is, stock up ahead of time and look forward to winding down with a little extra treat.