The Christmas season is upon us and each year it feels more important than ever to support all the fantastic small businesses and creative indie brands out there.
In years gone by, I would be in a frantic rush to make stock, create Christmas product images, organise festive marketing and prepare the workshop for a frenzy of packing orders.
Since I closed The Smallest Light store I have a little more time to browse and explore all the beautiful nature-inspired businesses that I have come to know and love over the past few years and share those with you all here in my 'shop small' Christmas Gift Guide…
Not only does a purchase from a small business guarantee a gift that's been made with a huge amount of care and dedication to the craft, it also means the lucky recipient will feel extra special when they receive a one of a kind gift. This year more than ever, showing support with our spending is SO important.
Making considered and sustainable choices to keep afloat the talented makers and creatives we love is a tangible way to make a real difference to small brands.
Here are a dozen of my favourite picks for nature inspired gifts, updated for 2023…
12 very lovely Christmas gifts for nature lovers…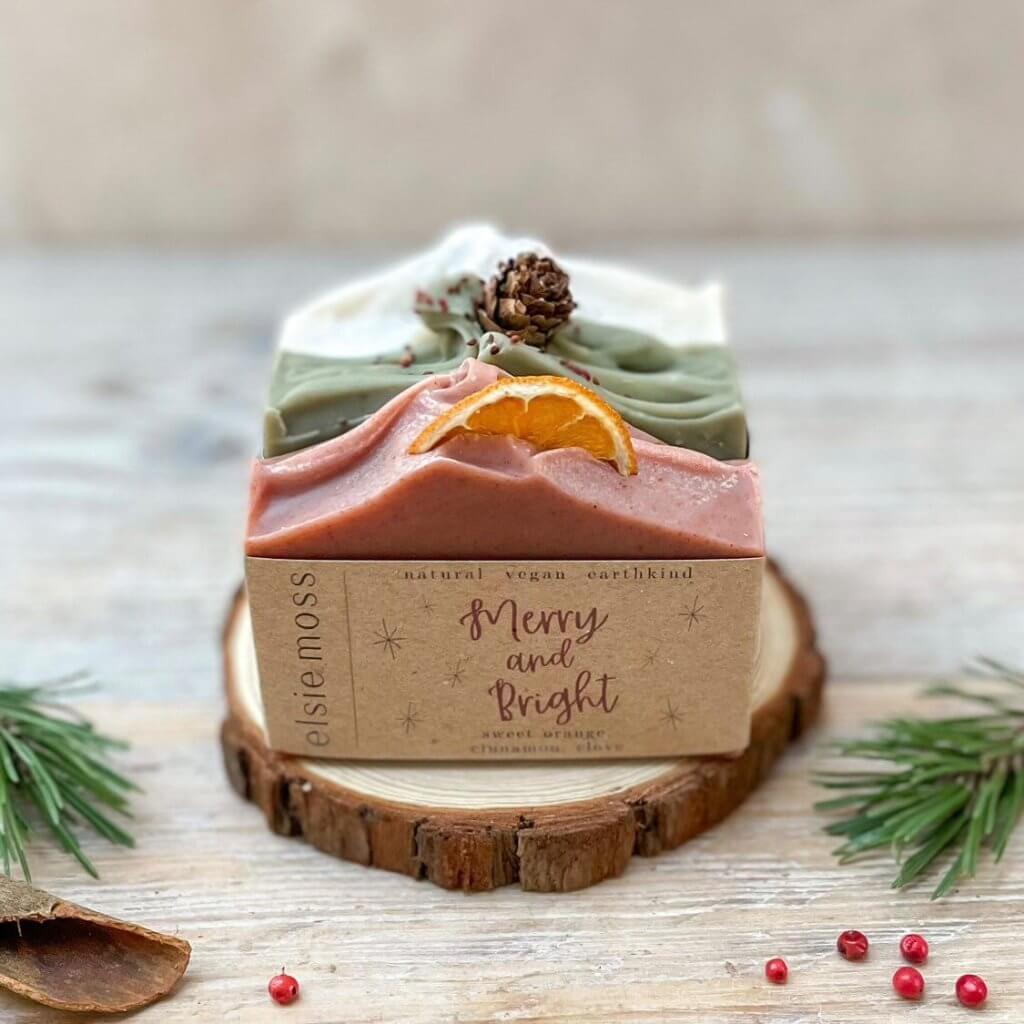 Elsie Moss Botanical – Festive Soap Collection £24.95
This beautiful Festive soap collection holds three Christmas soap bars; Holly Jolly Christmas, Merry & Bright and Baby, it's Cold Outside. Nestled in a green box and finished with a cotton ribbon, all ready for gifting.
All Lisa's products are inspired by nature and handmade, using organic, naturally derived ingredients in her beautiful home-based workshop, on the edge of the beautiful Peak District in Derbyshire.
These Two Hands – Wake Up With Wildflowers Gift Set £38.95
The perfect gift for any lover of handcrafted ceramics, really good coffee and wildflowers.
This gift set includes a beautiful wildflower stoneware coffee cup by Lindy Garner and a bag of Bloom coffee, roasted by an incredible one-woman coffee roaster in Stroud. These cute cups are the perfect size for a few stovetop coffees in the morning and the Bloom blend, is a beautifully smooth coffee with notes of dark chocolate, nut, raspberry and white sugar. A mini posy of wild dried flowers is added inside every hand stamped wooden gift box.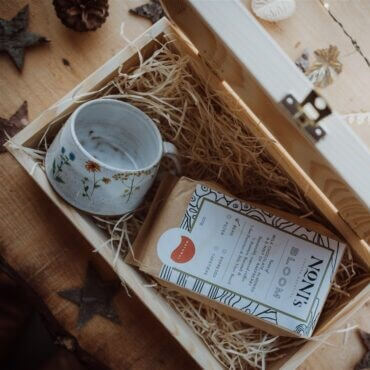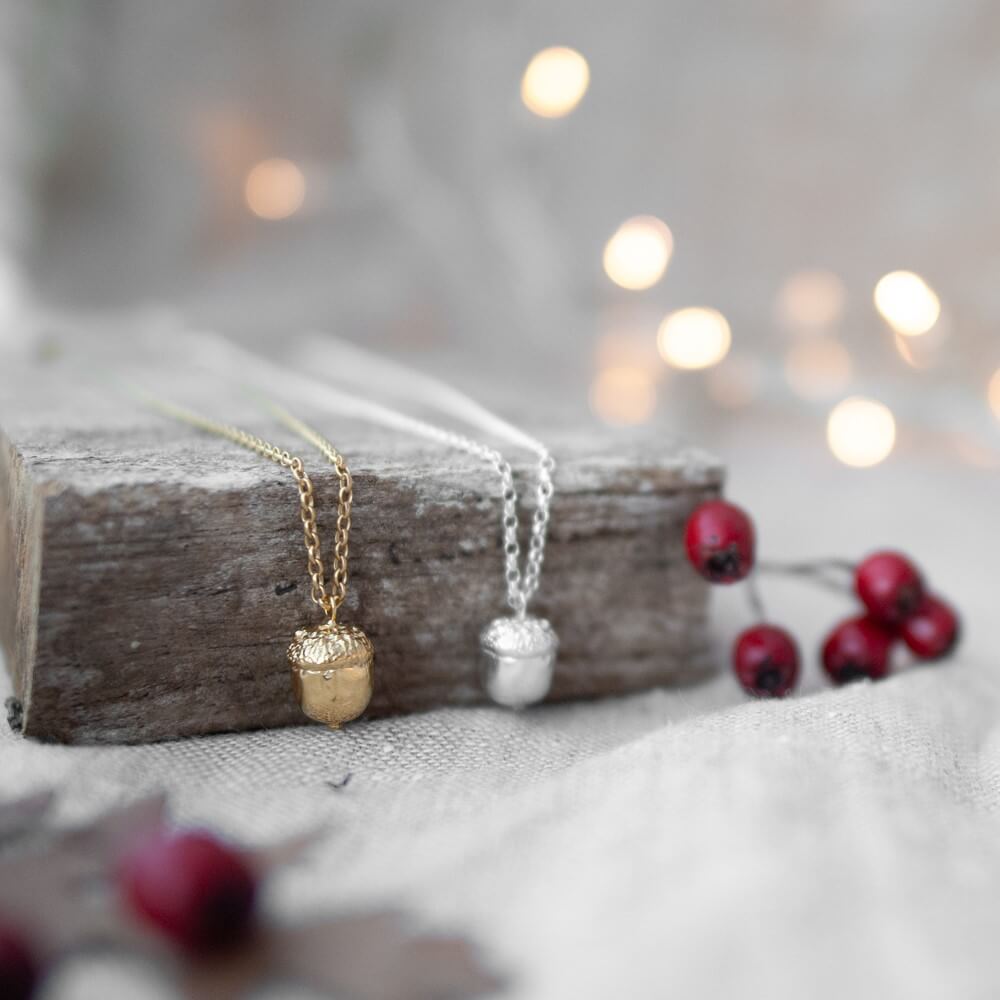 Alice Stewart – Gold and Silver Acorn Necklace from £110.00
Acorns are tokens of nature's alchemical magic; a tiny, hardened nut transforms into a mighty and wise tree. A symbol of strength and good fortune, the small but hardy acorn reminds us that great things can come from the smallest beginnings.
These stunning acorn necklaces are handcrafted in either sterling silver or gold plated for that extra Christmas sparkle.
A donation from each order goes to the charity Trees For Life to help rewild and restore the Caledonian Forest in the Scottish Highlands.
Paper Thin Moon – The Flower Lover's Ikebana Gift Set £62.00
The perfect gift for those who love nothing more than spending some quiet time faffing with flowers, the Flower Lover's Ikebana Gift Set includes everything needed for making artful ikebana-inspired displays with fresh or dried flowers.
Use the Harvest ceramic flower frog, alone or placed inside the Oxnam porcelain bowl, or opt for a small Niwaki kenzan flower pin inside the bowl for more minimal arrangements. Simply fill the ceramic flower frog with water when using fresh flowers.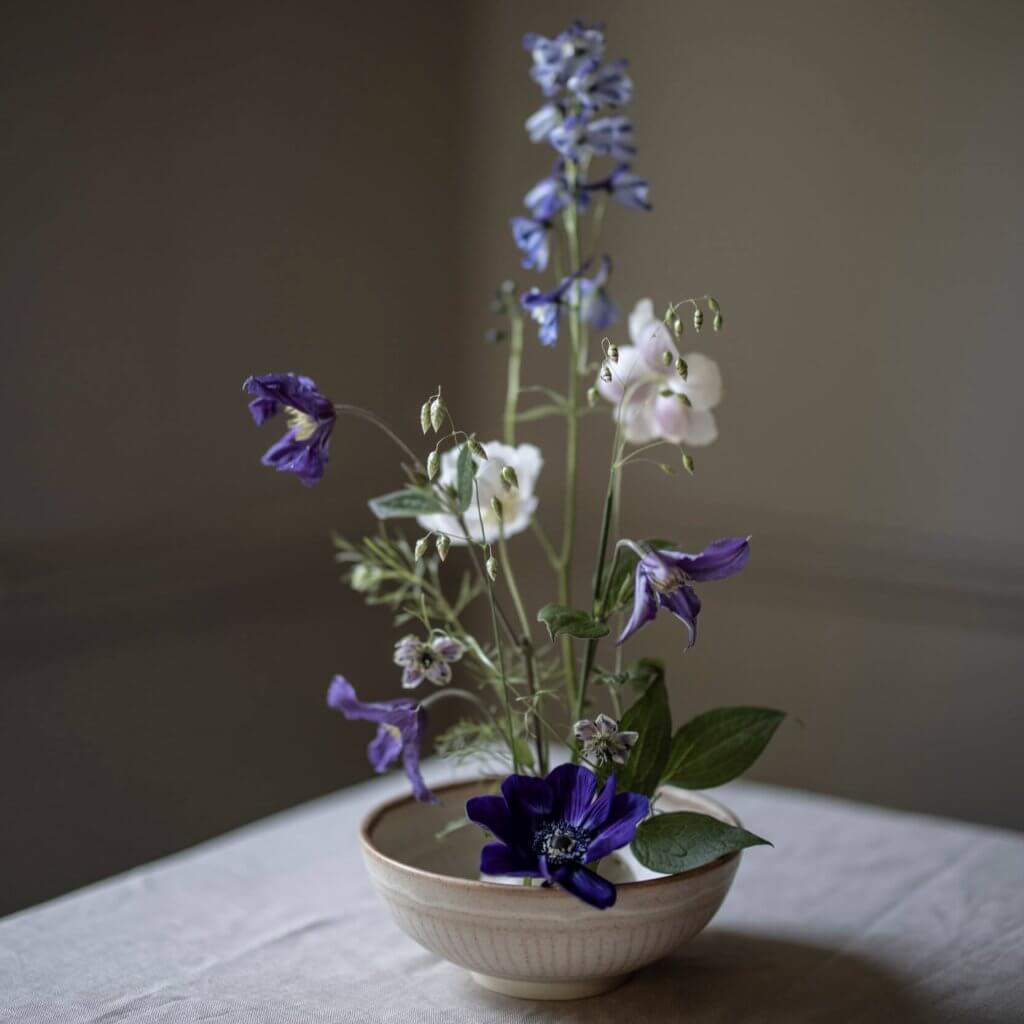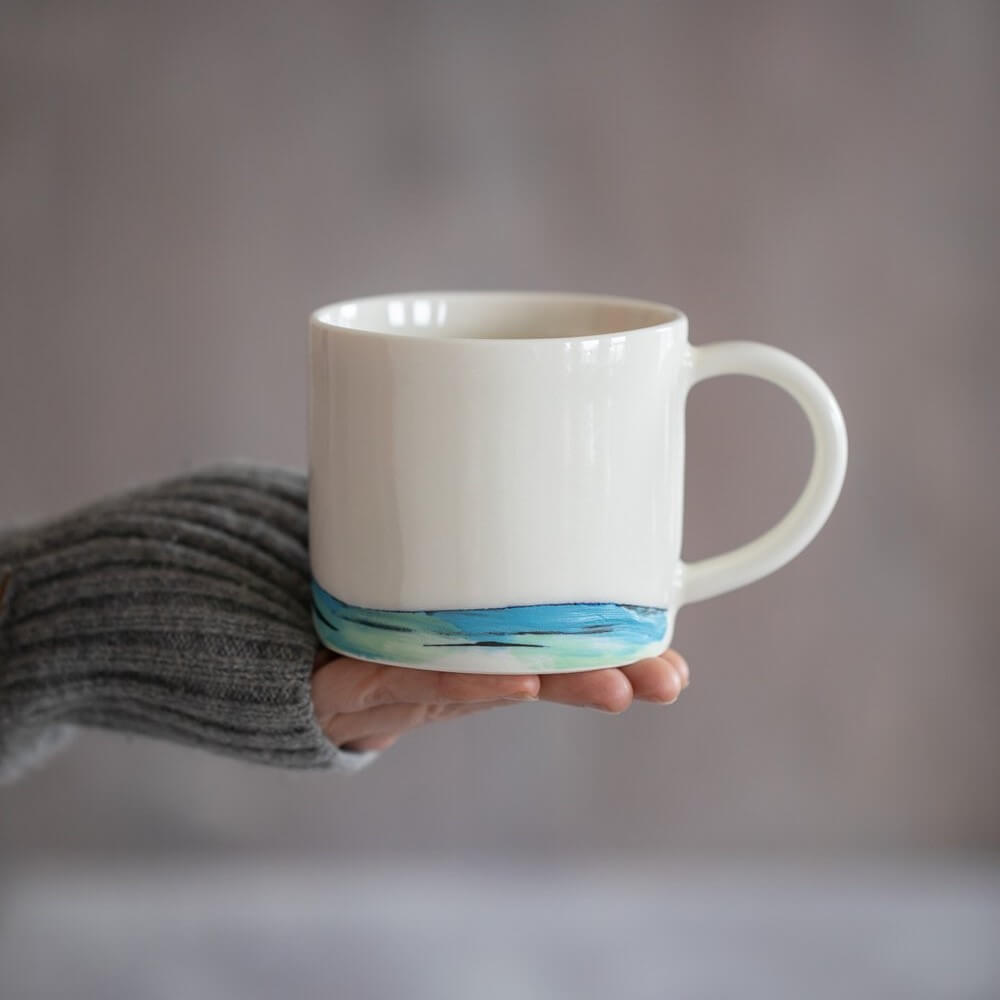 Kt Robbins Ceramics – Wave Mug £39.50
Thrown in Katie's garden studio, this hand-crafted porcelain mug is part of a brand new wave collection
It features a dynamic wave pattern of wiped back blue and green slip, with delicate energetic lines of oxide.
This mug is the perfect gift for anyone who loves the sea, or who dreams of the sea whilst sipping their preferred reviving hot brew.
Surrey Art School – Wild Inks Gift Set £22.50
This gift set is for the wild ones, the free spirits who roam the hills foraging for inspiration. This gift set includes a free 25 minute pre-recorded tutorial with some of SAS founder Ellie Green's best tricks getting wild with inks!
This nature-inspired art gift set contains everything you need, including Surrey Art School Sketchbook containing 140gsm All-Media Cartridge Pape, 2 sheets of A5 Watercolour Paper, High pigment 20ml Drawing Inks in Black (Indian Ink), Burnt Sienna and Burnt Umber, Wooden Dip Pen and Size 2 Copperplate Nib and a Size 6 White Synthetic Round Brush.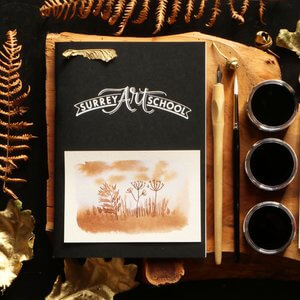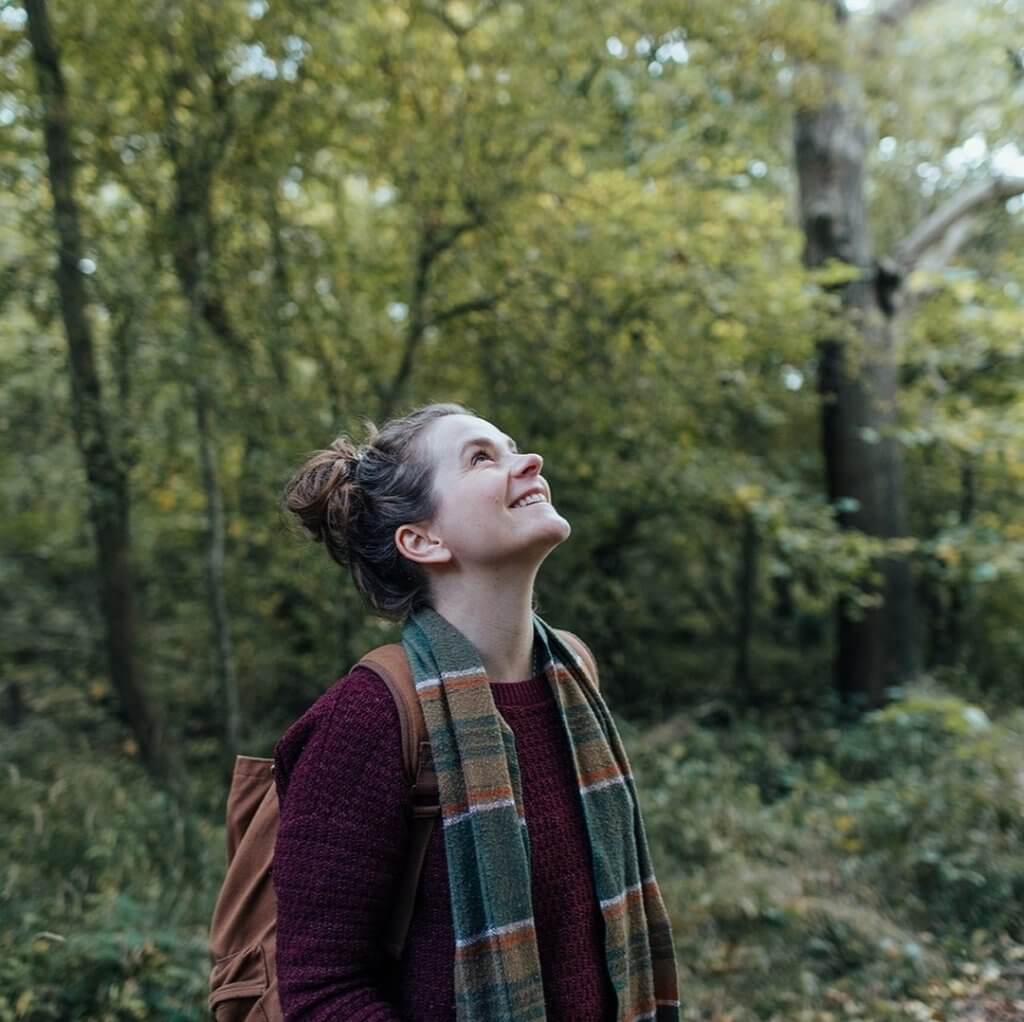 We Are Stardust – Winter Christmas Tree Nature Journaling Workshop £29.00
Evergreens have been brought into homes for centuries as symbols of hope and trust that the light will return.
Pause for a moment and join Agnes Becker in 60 minutes of calm reflection and appreciation of the evergreen trees bringing us hope this season.
Once you've purchased this workshop, you'll be sent a PDF with a link to the recording. You'll also get FREE access to any future live versions of the workshop.
Sakina Saidi – "To Plant A Garden" Print £35.00
Perfect for the gardener's in your life. A beautifully illustrated print from Sakina Saidi on Hahnemühle 308gsm paper with museum-quality archival pigment inks.
Sakina is a French-Moroccan artist and illustrator based in London who tells stories on how she sees the world, with a cheerful and hopeful outlook, bringing people together through shared human values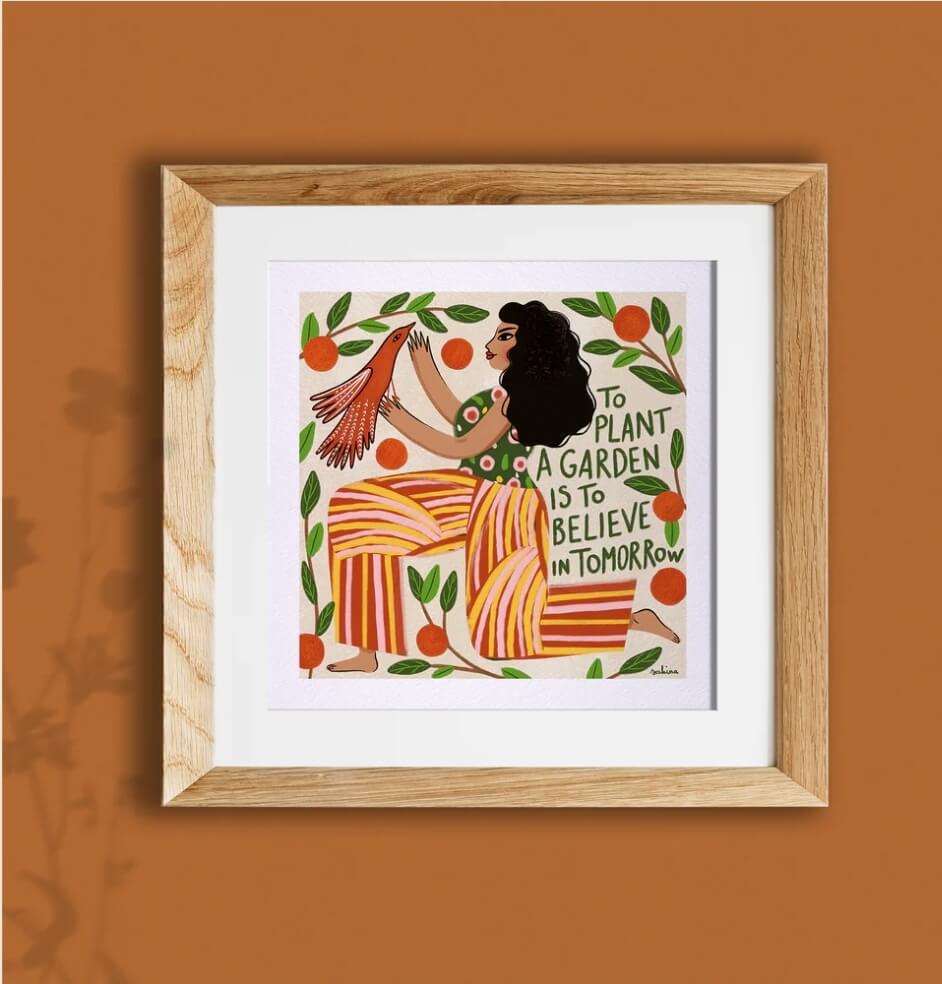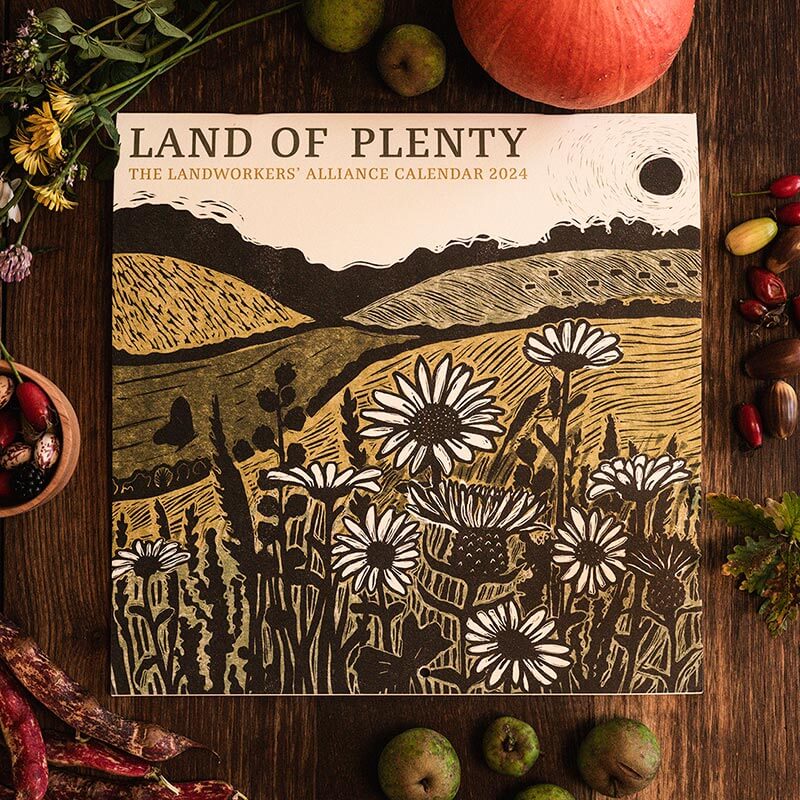 On Common Ground – The Landworkers Alliance Calendar £16.00
The Landworkers' Alliance 2024 Calendar, Land of Plenty, explores the myriad of lifeforms upon which our agroecological farming and land-use systems depend.
With bold and beautiful illustrations by printmaker and long-time LWA collaborator Rosanna Morris, Land of Plenty is an invitation for us all to find joy, wonder, strength and hope in the infinite diversity that brings our agroecological farming and land-use systems to life.
Flower & Fable – Snowdrop Coin Sentiment Charm £53.00
According to folklore, snowdrops were the only flower willing to lend their colour to the snow, and overwhelmed with gratitude the snow granted snowdrops the protection from the bitter cold
The coin sentiment charms from Flower & Fable are made with real flowers in sterling silver, using the traditional technique of lost wax casting. They are beautifully packaged with our signature box posy which changes with the seasons, a postcard detailing the botanical folklore and floriography of each piece, and a gift card for a personal message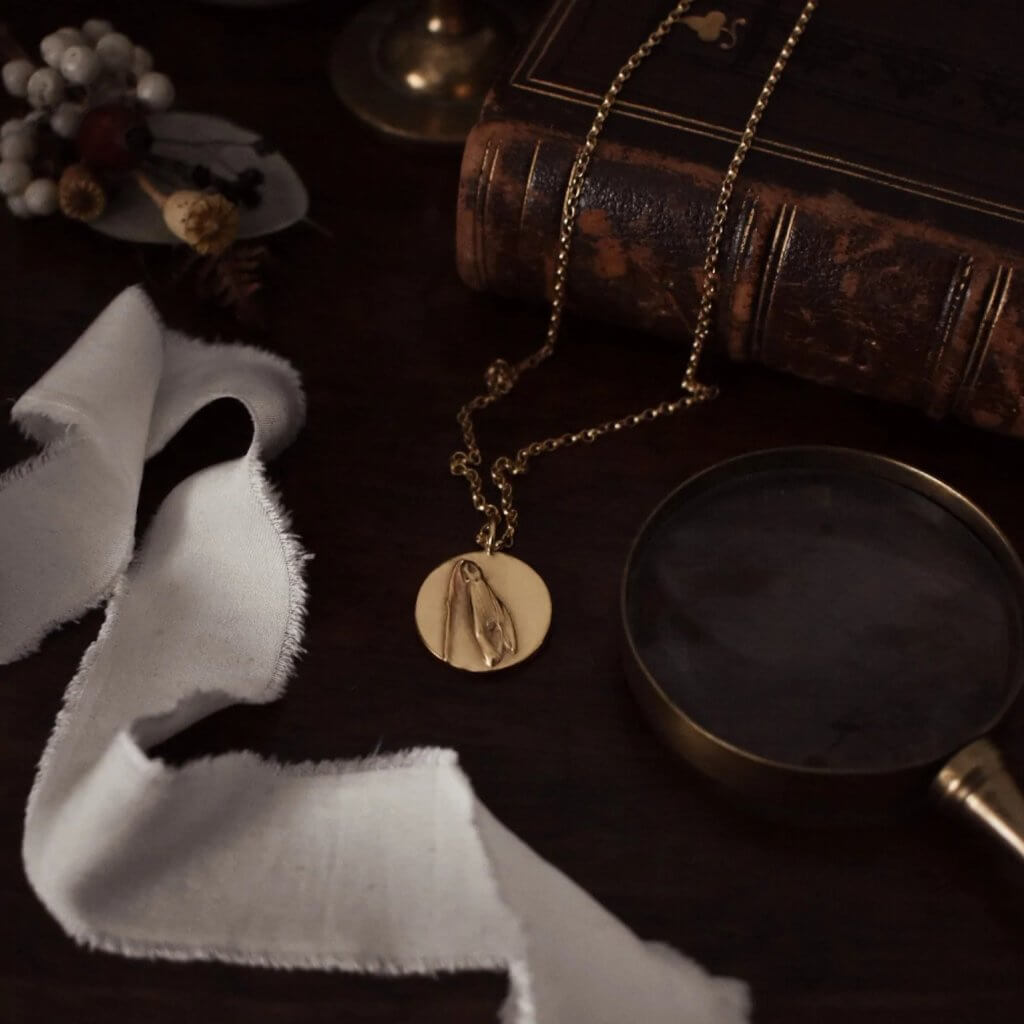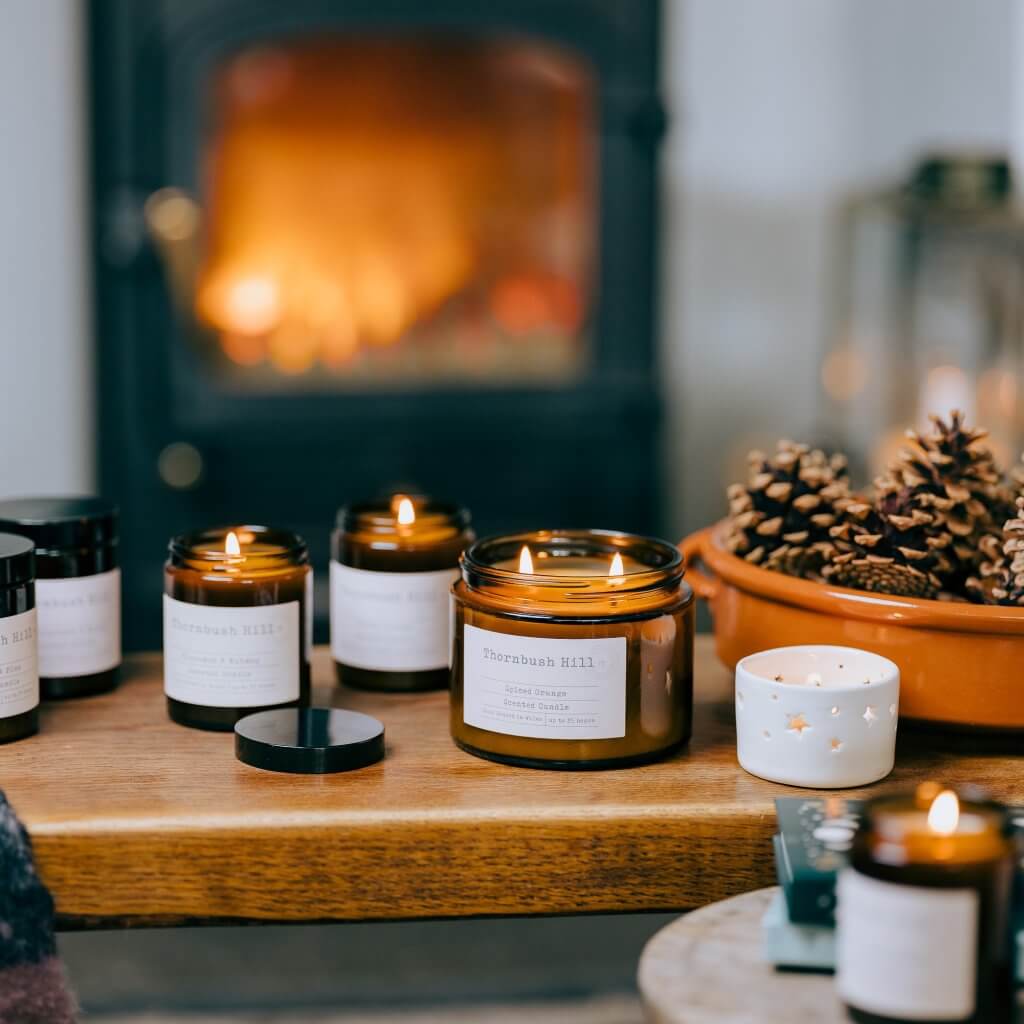 Thornbush Hill – Winter Candle Range from £13.00
The Thornbush Hill mission is to remind you to take one small moment to slow down, step back and breathe deeply.
From Frankincense & Myrrh to Spiced Orange, there is sure to be a candle in their sumptuous candle range to gift or keep and ensure your home is scented for the festive celebrations and welcoming throughout the winter season.
Winterfold Candle Co – Borealis Candle £20.00
A beautiful winter inspired scent from Winterfold. Transport yourself deep into the heart of the forest on a crisp winter's walk.
Gentle notes of Siberian pine blend with precious woods and a hint of invigorating eucalyptus, ending with a delicate floral note. Enjoy the beautiful scent of pine but without the sharp needles!
180ml Coconut and Rapeseed Wax Candle. Approx 30 hrs burn time.