Making a natural liquid soap
Hand soap has been playing a significant role in all our lives since the onset of the Covid-19 pandemic and I have been meaning to make a batch of my own natural liquid hand soap for months. I am constantly at the sink these days and we have been getting through so much soap, I have been getting all the guilts about the amount of plastic bottles we go through!
I have tried using solid soap bars to avoid the plastic but with kids around these tend to get really messy, really fast! Well I finally got around to ordering some glass refillable pump dispensers and once you have the 2 basic ingredients – it really is a super simple process to make your own natural liquid hand soap with essential oils, so I though I would share it with you all, here on The Smallest Light blog.
You will need:
Essential Oils of your choice (see my notes on this below)
Large Bowl
Small Funnel
Large Spoon for mixing
You could use a soap dispenser you already have at home or choose to invest in a glass pump dispenser bottle as I did, which can be reused many times. There are many different soap bases you could use, my preference is a plain castille soap which is made with sunflower and coconut oil. I have added links to my supplier recommendations in the list above and again at the end of this post.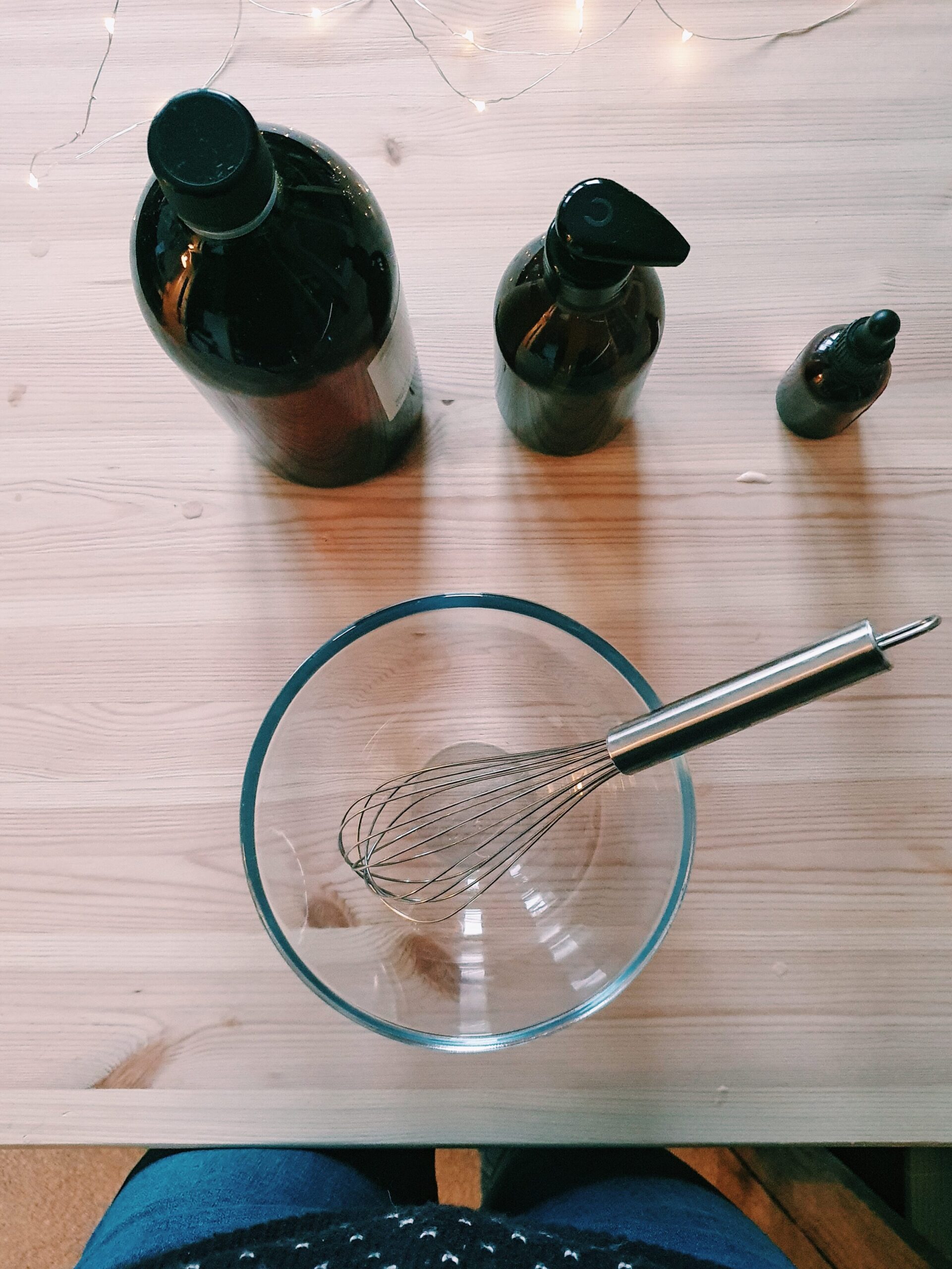 Step 1 – Select and blend your essential oils
I have chosen to use some of my favourite oils for the Kitchen in this hand soap. You can go ahead and try this combination or select different oils or use just one oil to suit you. If you are new to using oils it may be easier to begin with just one single oil.
Before selecting any oils I would recommend having a good read of the Tisserand site which has a great blog posts and information for beginners here
Remember to always check the individual safety notes for each essential oil to ensure it is suitable for use on your skin. You can read up on essential oil safety here.
My Kitchen Hand Soap Essential Oil Blend:
Rosemary Essential Oil – rejuvenates tired muscles and energises
Lemon Essential Oil – uplifting and cleansing
Mint Essential Oil- invigorating and cooling
Having done some research on method and measurements I chose to go with a 1% dilution of oil to soap base
I begin with a tester amount of 100ml to ensure I like the blend before making a larger batch – the dilution works out at 1ml of your essential oil blend to 100ml of soap base.
Once you have decided how much soap you wish to make and that it will fit in your chosen container, you need to work out 1% of that amount and which will give you the correct measurement of essential oil blend to add in.
I was impressed with the scent throw from using just 1% and would happily make a larger amount next time using this dilution. It smells incredible, not too strong, just enough scent to savour as you cleanse your hands.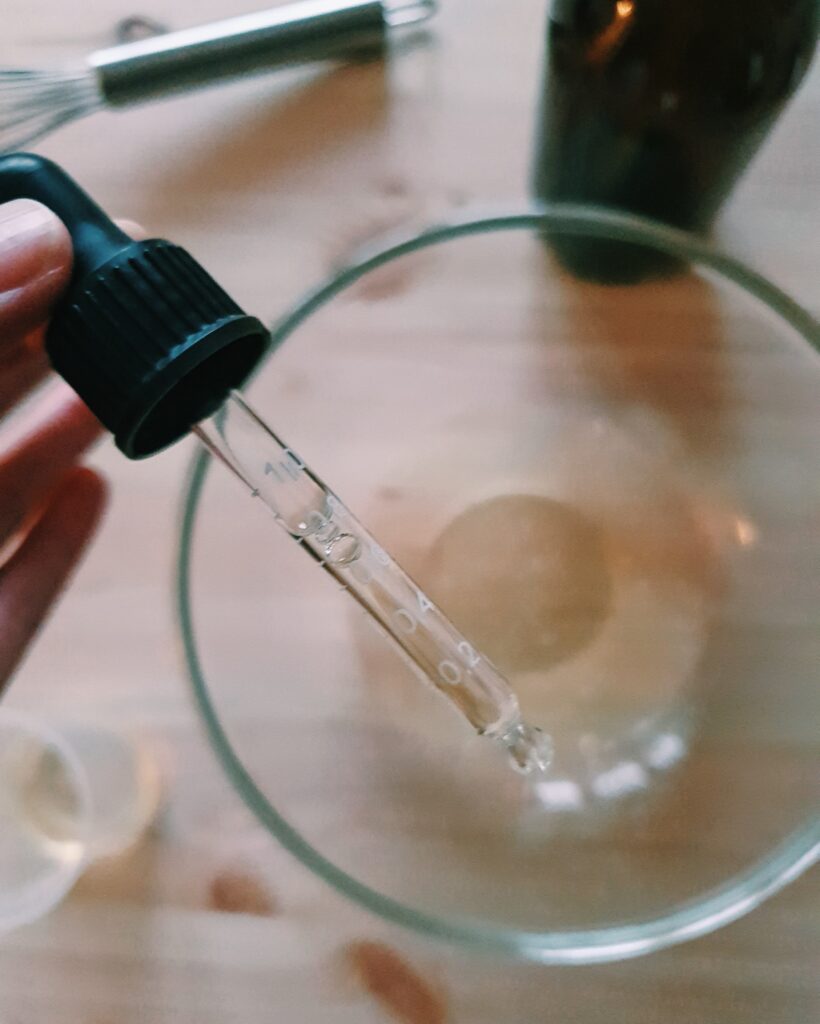 Step 2 – Mix the Essential Oils with the Liquid Soap Base
Using the dilution guidelines above – pour your soap base into a large bowl, then add the essential oils.
Mix the liquids together, stirring gently. You will notice air bubbles which can change the appearance of the liquid soap and make it look cloudy. It will return to normal once left to settle in the bottle for a while.
Step 3 – Use the funnel to pour (or spoon) the liquid into the pump dispenser bottle.
Slowly scoop or pour all the soap through the funnel into your chosen container bottle.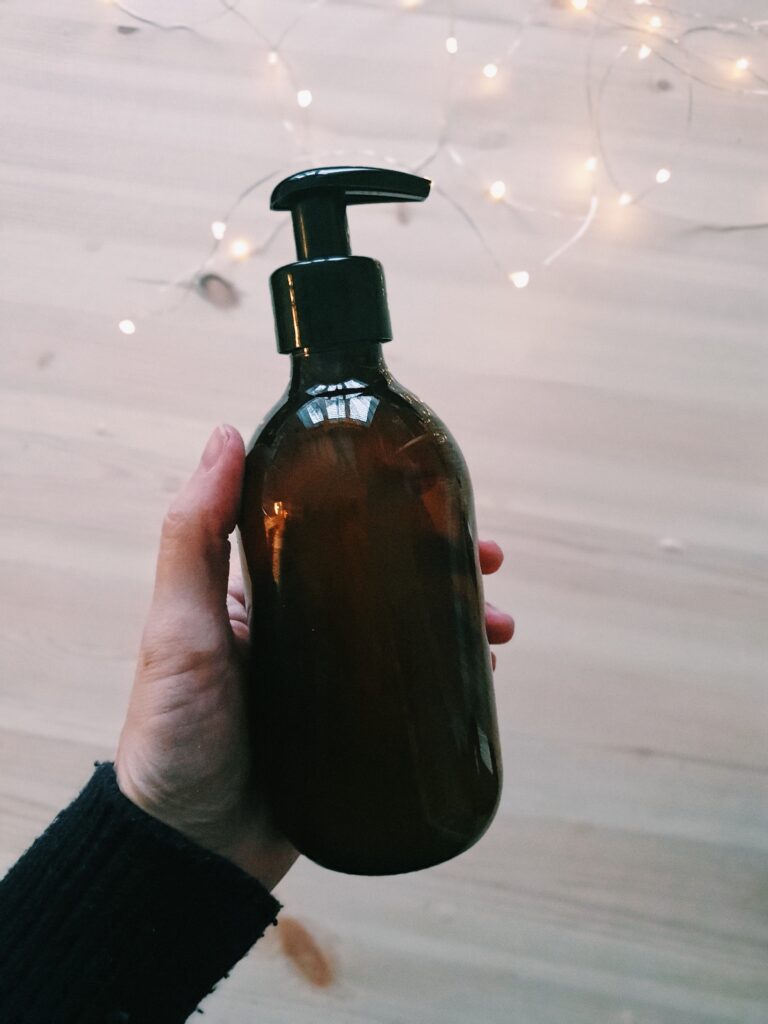 Step 4 – The best bit! Time to try out your new liquid hand soap!
If you do decide to try out this method and make your own scented natural liquid hand soap, I would love to hear about it! Drop me a comment below or hop on over to my Instagram and send me a DM.
Supplier Recommendations (UK based)
Essential Oils – Essential Oils Direct, Tisserand
Liquid Castille Soap – Baldwins, Naturally Thinking
Glass dispenser bottles – Baldwins
Plastic Funnel – Amazon